<![CDATA[
If we asked you to give us your perfect definition of 'Britishness', what answer would immediately spring to mind? Afternoon tea? Gilbert and Sullivan? Strawberries and cream? Wimbledon? Getting knocked out in the group stages of an international competition? Coming last in Eurovision? Well, all of those are good shouts, but how about this suggestion for size? A fabric chesterfield sofa?
You're probably thinking, well we get the chesterfield sofa part. After all – it's British, it's iconic and it's definitely got the right sort of pedigree. Buy why fabric? Why not a traditional leather chesterfield sofa?
Well, it's simply because times change and fashions move on. Leather chesterfield sofas still look superb in the right setting and with the right ambience, but fabric chesterfield sofas can sometimes be far better-suited to modern and contemporary surroundings.
Picture the Virgin Media sofa in a gentleman's drawing room and something rankles. Picture it in a spacious loft apartment with a widescreen HD TV and surround sound, and it just sits better.
That's not to say traditional chesterfield sofas aren't suited to modern living. The juxtaposition of traditional and contemporary can often make a style statement. Stick a traditional leather chesterfield sofa in splendid isolation in a stark, minimalistic, loft apartment, and it can look stunning.
By the same token, put a modern fabric chesterfield sofa proudly in the middle of a traditionally decorated Victorian parlour and it can also make quite a statement.
It's all a question of personal taste at the end of the day. You can put a chesterfield sofa where you like, when you like to suit your style. As far as we're concerned a chesterfield sofa in a caravan would be fine with us.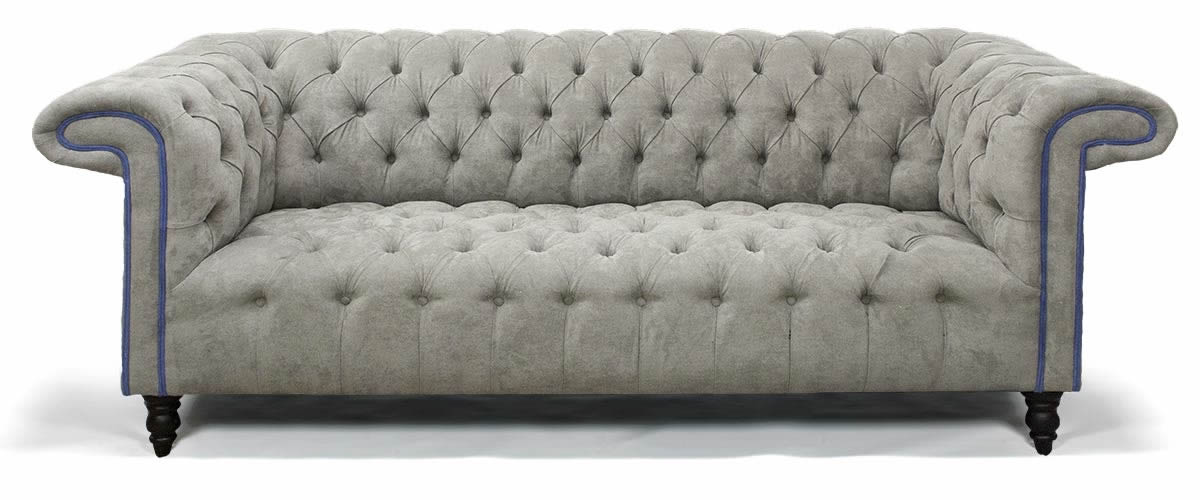 Why should you choose a fabric-covered chesterfield sofa?
But what are the advantages of a fabric sofa? Why should you choose a fabric-covered chesterfield sofa? Well, fabric chesterfield sofas are sleek, sophisticated and stunning to look at. They're definitely a statement piece and will add style and grace to any room.
Fabric chesterfield sofas are also available in an infinitive number of colours and patterns, so there will undoubtedly be one to match your style. But it's not all about style: sometimes you need to match that with substance, and a fabric chesterfield sofa delivers on that front too.
They're immensely practical and resilient pieces of furniture. Underneath the covering is the same solid, sturdy and reliable wooden frame. They can take the knocks that life throws at them, but they are capable of withstanding those knocks and still looking a million dollars.
If you want to make a patriotic statement, then choose the most iconic piece of British furniture available; the chesterfield sofa. If you want to buy a contemporary British style, then choose a fabric chesterfield sofa.
Whatever your ultimate choice, you'll know that by buying British you'll be buying a quality product, lovingly created by time-served craftsmen using only the finest quality materials. It's a product that's built to order, and one that's built to last.
]]>
---