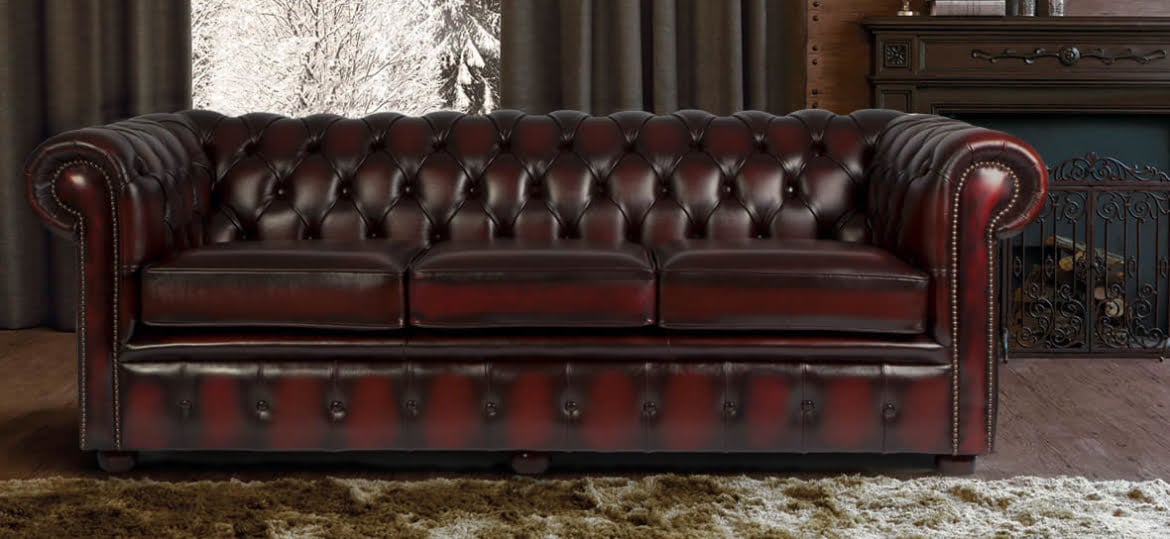 <![CDATA[
Buying a new sofa can be a challenging experience. Granted, it's not quite up there with bringing up a child or moving countries, but it's a challenge none the less. Why does it have to be such an issue? Well, it's a style choice you're going to have to live with for years to come. If you choose the wrong wallpaper, it's easy to replace. Choose the wrong sofa and it's not quite so easily solved.
Not only is buying a sofa a big investment, it's also a statement. After all, the sofa you purchase is going to have to take pride of place in your living room and be the focal point of the home. Get it wrong, or choose a poor sofa and you've got problems. Get it right and buy a quality product, and life is sweet.
So, what sort of sofa should you choose in the ideal world? Which sofa will be right for you, and will serve you and your family well for years to come? The answer has to be a handmade leather chesterfield sofa, and here are 5 good reasons why.
1 – Comfortable and Welcoming
Handmade leather chesterfield sofas are both comfortable and welcoming. It's perfectly suited to the human form and posture, and offers support just where you need it.
A one-size sofa no longer suits us all. Some of us like our sofas to be soft and luxurious; others prefer them to be firmer and more supportive. The beauty of a bespoke handmade leather chesterfield sofa is that it can be made to meet either or both of these requirements.
2 – Practical and Hardwearing
Handmade leather chesterfield sofas are practical and hardwearing. Why is that so important? Well, not many people know this, but the average length of a family sofa's life is 8 years and 1 month. So when you buy a sofa it has to be resilient.
Chesterfield sofas are built to last a lifetime, and will withstand the hardest knocks that most families can throw at it. What's more, it easily copes with spillages. With just a quick wipe down it can withstand the demands of even the most boisterous and athletic child, whilst still looking as good as the day you bought it.
3 – Value for Money
Bespoke handmade leather chesterfield sofas offer outstanding value for money. Its price is competitive, but when you consider that you're buying is a craftsman-made item of furniture, it becomes an even more attractive proposition.
This is particularly true when you buy from us, as we deal directly with our customers. There are no middle men involved in our business, and so we are able to pass these savings on to our customers.
4 – Style Icon
Chesterfield sofas are a style icon. It's got a 200 year old pedigree and simply oozes class and sophistication. From the deep, hand-stitched buttoned back, to the sweeping studded arms, a handmade leather chesterfield sofa is the only choice for anyone who values both style and substance.
5 – Adaptable Piece of Furniture
Handmade leather chesterfield sofas have to be one of the most adaptable pieces of furniture you could ever buy. Whether your tastes are traditional or contemporary, luxurious or minimal, we know we've got the perfect sofa for you.
So, there you have it. If you're looking to buy a new sofa, it really needs to be a handmade leather chesterfield sofa. They are comfortable and welcoming, practical, hardwearing and resilient, stylish and adaptable and offer incredible value for money. What more could you possibly ask of a sofa?
The Chesterfield Sofa Company offers a bespoke service that lets you choose precisely the type of comfort, style and finish to suite your requirements. If you have any questions about our products, contact us and we'll be happy to help.
]]>
---