<![CDATA[
For those that didn't know there are people whose job it is to look into the future and curate things like 'the colour of the year' and the decorative themes that will soon be popular in our homes. You learn something new every day. Wonder if they also do Lottery numbers?
Dulux colour of the year 2017: Denim Drift
Some of these futurologists work for paint manufacturer Dulux which seems appropriate given colour is their stock in trade. So naturally, they have come forth with their predictions. The 2017 colour the year according to the team at Dulux will be Denim Drift a beautiful grey blue that they predict will soon adorn our homes as we look for new décor ideas. Heleen van Gent Creative Director Dulux's Global Aesthetics Centre offers this assessment: 'Blue is the colour of life; it is the clothes we wear, the sky we gaze at and the water that revitalises us. Blue has been, and will continue to be, a constant in every aspect of our lives. From the deepest ink blue, to the palest misty blue, this colour spans every spectrum of life; it is a royal colour, but it is also used for workers' blue jeans.' Heleen seems to have covered the ground there and although we like to think were quite down to earth here at The Chesterfield Sofa Company we're also very interested in the settings in which our
craftsmen built furniture
will live. So what do we think?
We love Denim Drift
We think Denim Drift is fabulous. Blue is always a great option. It's such a versatile colour and will work in any room be that a living or utility space. Denim Drift has a subtlety we admire and is a perfect mix of both modern and heritage shades. Blue, particularly Denim Drift, fits equally well in high tech living spaces or those with a more traditional feel which means you can match it with just about anything. It will go as well with steel and plastic as it does with wood, leather and natural fibres. Our view of Denim Drift is that it's cool and sophisticated. Timeless and modern at the same time. It's also very relaxing just like the classic Chesterfield pieces, we make here. And like our classic Chesterfield designs it'll be easy to live with whilst making a big impact too. Perhaps these predictors of the future know something after all.
The Denim Drift colour palette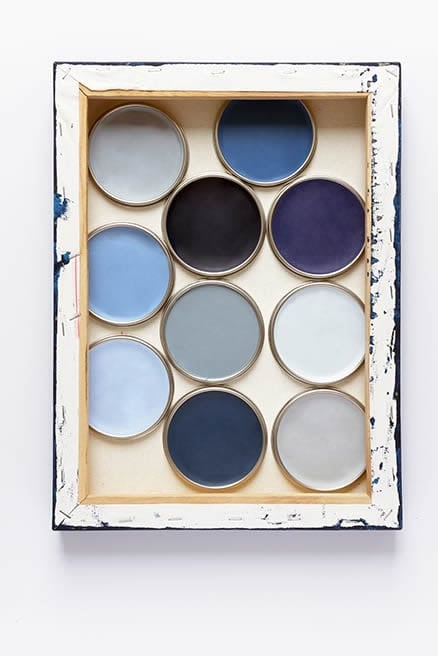 If you're as taken with Denim Drift as we are you'll be pleased to know that Dulux provides a colour palette of up to 45 complimentary shades that will help you create a harmonious blend of room colour, ornaments and decoration.
You can find all the inspiration you need here
. Better still, if you think Denim Drift and its siblings are the colours you want in your life and are planning a revamp of your home and furniture we can create a fabulous fabric Chesterfield sofa in a
perfectly matched colour
that will live very happily in a Denim Drift inspired room. We'd love to see the results. Denim drift and a modern fabric Chesterfield, a pairing that won't make you sing the blues. [All photos credited to: Nordsjö
CC BY 3.0
]]]>
---