<![CDATA[They say that beauty is in the eye of the beholder, and that quality always shines through like a beacon. The Expo Leather Company couldn't agree more. We definitely believe that quality is paramount, and make sure that every English leather Chesterfield sofa or settee we manufacture is produced to the highest possible standards. We've set our benchmark to such an incredibly high standard that we doubt any of our regional competitors could match us in terms of quality or price. Expo Leather's time-served craftsmen produce visually stunning and timeless Chesterfield sofas and settees that will last for generations and only improve with age.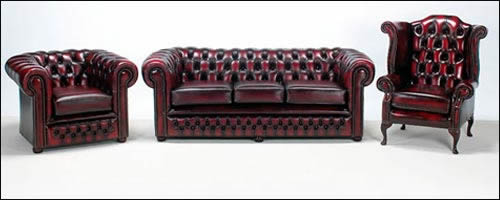 Expo Leather only uses the best quality materials when we build your Chesterfield furniture. For us, appearance is everything. That's why we only use the finest quality hides in Lancashire workshop. Our craftsmen only use full hides to cover our Chesterfield sofas and settees, unlike some of our competitors who don't necessarily apply such rigorous standards. By using full hides of finest grade leathers, we can be sure that our furniture will always have a consistent and superior finish. Generally speaking, you get what you pay for in this world, but Expo Leather are able to offer you this superior quality at an affordable price, as we sell directly to you ,the customer, and keep our costs down by avoiding unnecessary overheads. If you're looking to buy a timeless piece of British leather, craftsman-made Chesterfield furniture, then why not have a look at what we have to offer? We stock a comprehensive range of top-quality leathers that will suit all budgets, styles and tastes. The 'Birch' collection is our best seller and our most popular hide. This fine-grained, soft and luxurious leather perfectly complements the classic Chesterfield design and ages beautifully. If you're looking for something a little more traditional, then have a look at our 'birch antique' two-tone leathers. We also stock the 'Lena' range of quality leathers: this half grain leather comes in a variety of colours to suit your own particular style, and will give your furniture a soft and luxurious feel and smooth finish. Our 'Salvaggio' range offers natural-grained leathers with a soft and waxy feel. They mature beautifully and improve with age. Because these leathers haven't been printed, the natural character of the hide is allowed to shine through. If you appreciate natural appearances, then our 'Salvaggio' range with its minimal surface coating is probably the right leather for you. Alternatively you might consider our 'Pista' range of quality leathers. These beautiful fine-grained leathers haven't been printed and only show the natural character of the material itself. When the leather's stretched, the hide dye colour is lightened, giving your furniture a pleasant contrast of shades, and making it ideal for any sophisticated living space. If you're really looking to make a statement, then our range of 'Artemida' leathers is probably the choice for you. Our unique range of high quality seri-graphed leather comes in a variety of designs and surface textures, and gives you the opportunity to create your own unique and bespoke designer look.
English craftsmanship at affordable prices.
]]>
---