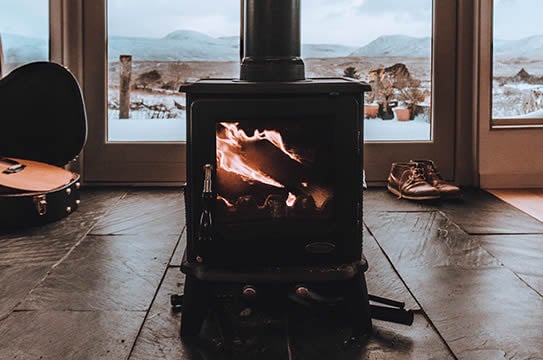 <![CDATA[
There's nothing like firing up a wood burning stove when the foul winter weather is howling around outside. The comforting glow of the flames that are warming your feet. The room-filling warmth that chases away the seasonal chill. Quite simply, a wood burning stove is the ultimate comfort accessory. It's no wonder they've become so popular over recent years. Increasing numbers of stylish homeowners have decided they want a more organic heating option than boring old radiators.
No doubt, after some experimentation, you've finally worked out how to light your log burner. It took a while, but you got there in the end! However, at least for newbies, you may not know the other wood burning stove maintenance routines that ensure your appliance remains safe and reliable.
If you're sketchy on this crucial information, then our guide on how to maintain a wood burning stove will be essential reading. So put those firelighters down for a moment or two and read on. Hopefully, you'll soon have the warm satisfied glow of a well-informed stove owner.
A Clean Sweep
Mary Poppins fans will know the song Chim Chim Cher-ee sung in a terrible Cockney accent. In the 21st century, the Chimney Sweep is back in business – big time. And they do a vital job in helping to maintain a wood burning stove. You must get your chimney or flue swept annually by a Sweep Safe accredited provider. They'll remove the excess soot and dirt and check the draw and condition of your chimney and wood burner. Your sweep will also send you a certificate of compliance that may be required by your home insurance. An annual sweep helps to prevent potentially harmful leaks of combustion gases or worse a damaging chimney fire. Put a note on your calendar, so you don't forget!
Sweep Clean
Regular cleaning and inspection of your wood burning stove is an important habit to develop. You should regularly remove the firebricks, baffle, and grate to give them a thorough clean. You can then get rid of the ash build-up in the unseen recesses of your stove. Clean the glass using a soft damp cloth dipped in wood ash. Investing in a purpose-built ash vacuum cleaner will make this job much more manageable.
Make sure you check the rope seals and door glass for any damage. Happily, wood burning stoves are easy to repair, and spares are easy to source. So putting issues right will be relatively simple. Don't put them off. Regular wood burning stove maintenance will prolong its life and help it to heat your home efficiently. Of course, if you don't feel comfortable doing this work, then it's time to call in the professionals. Look up your local HETAS accredited engineer.
There's No Smoke…
How you use your wood burning stove will contribute to its maintenance. Sourcing the correct fuel ensures you get an even, efficient burn. Seasoned logs, smokeless briquettes or coal are all fine as long as you're not breaking any local bye-laws. Check with your local authority what you're allowed to burn in your area. If possible try to find a local business who can supply you with quality fuels on a regular basis.
Gadgets And Doodads
Try to use chemical-free firelighters when lighting your wood burner they're better for your home and the planet. Having a well-designed set of fire tools will help you to keep your fire nice and toasty. Other essential gadgets to invest in would be a CO detector, a moisture meter, and a self-powered fan. These will keep you and your wood burning stove in good condition and allow you to make the most of your fuel.
And Finally
So now your wood burning stove is tickety-boo what else might you need. Oh yes, a lovely Chesterfield sofa or maybe even a wingback chair. A comfortable place where you can enjoy the dancing flames through your stove's window. All while indulging in the Hygge-inducing warmth that only a wood burner can provide.
If that sounds like your idea of bliss, then call the Chesterfield Sofa Company team today on 0800 035 9889 and place your order today. We'll generate some serious heat as we hot-foot your new furniture to you.
What a perfect combination; a wood burning stove and some stately Chesterfield furniture. If that doesn't give you a warm, soothing glow, nothing will.
]]>
---