Here's a question for you to ponder on this miserable wet and windy day. Can you ever have too much of a good thing? Now if you think you can, then here's a further question: how much is too much? We're asking these questions because we saw something in the Guardian newspaper online over the weekend that got us thinking. You won't be surprised to learn that the 'something' we're referring to was a chesterfield sofa, or more correctly chesterfield sofa-related. Have a look at the picture attached to this article and make your own mind up.
Now being manufacturers and suppliers of some of the finest chesterfield sofas available you'd naturally expect us to sing the praises of traditional chesterfield sofas at every available opportunity. Well, of course we do whenever we get the chance, but even we would have to admit that this particular homage to the iconic piece of furniture is possibly just a little bit OTT.
So, what's it all about? Well, the Guardian runs a series of articles and photographs on interior styling on Fridays and last week focused on faking it: in other words creating an impression by suggestion and subtle deceit using wallpapers and wall hangings. If you wanted to create a New York loft style look for instance, then it suggested hanging aged brick-effect wallpaper: if you wanted to turn your living room into a Georgian library, then the suggestion was to hang wallpaper adorned with fake wooden panelling and antique books. You get the idea. Now for those people who love chesterfield sofas – and we're talking the type of 'love' here that almost borders on devotion, you can now buy chesterfield button-back wallpaper. We'll gladly admit that it looks the business. It's striking, stylish and definitely makes a statement, of that here can be no doubt. Maybe it makes too much of a statement, and that's the problem. It's such a bold and uncompromising pattern that it almost overwhelms the chesterfield chaise. If the lighting and angle of the chaise hadn't been so carefully controlled, you could almost miss it entirely.
The problem we think is that you can have too much of a good thing in this instance. The wallpaper's great, but you wouldn't want it to detract from the real thing, would you? A chesterfield sofa is a thing of beauty which should not only be revered, but also celebrated. There's little point therefore hiding its light under a bushel. It should take centre stage as far as we're concerned. So, even if you adore the paper and fancy hanging a drop or two on your walls, do us a favour: don't stand your classic chesterfield sofa in front of it. Stand it somewhere where it will get the attention it deserves.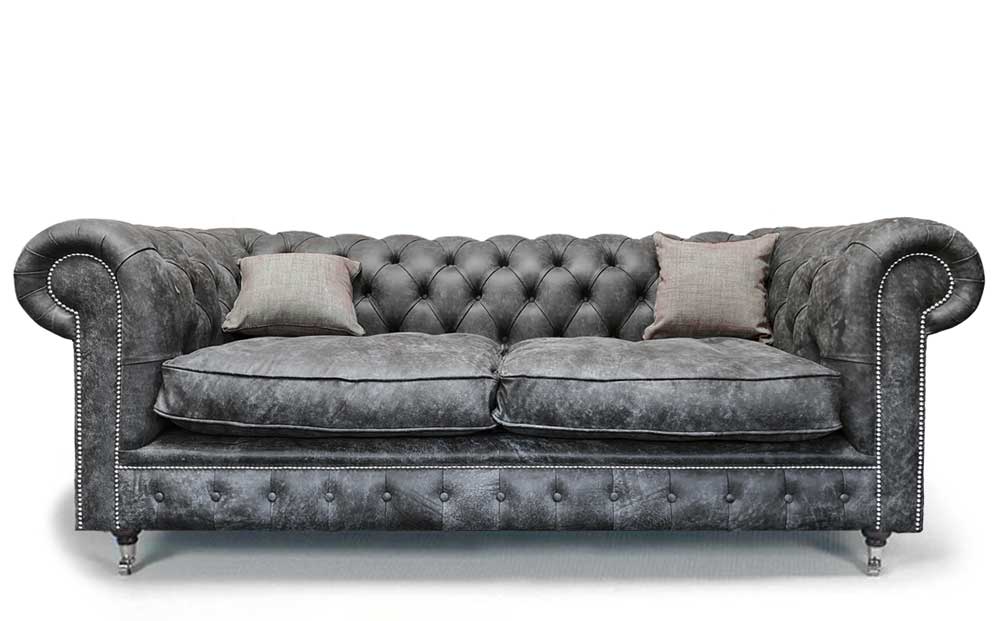 ---