Summer's here at last, so two things are as certain as the next tax rise or budget cut. Drought restrictions will soon be enforced as we've had at least two consecutive days of sunny weather, and Big Brother will be back on your screens once again. Love it or hate it, it's due back soon, but on a different channel: so don't be too surprised if we also see another Celebrity Big Brother. The strange thing about reality shows is that, regardless of the quality of the programme, a new star is always created or re-born. That was certainly the case for the Celebrity Big Brother series last year: one shining light shone like a beacon. Who was it: Stephanie Beacham, Vinnie Jones or Stephen Baldwin? Well no, it was a traditional Chesterfield sofa. I kid you not.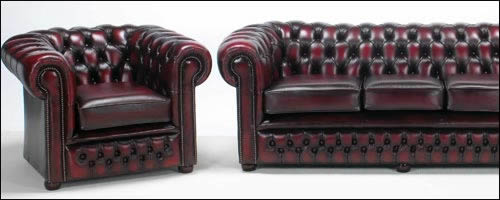 Yes, slap bang in the middle of the shared living room was a big, luxurious red velvet Chesterfield sofa. It was very similar to our own traditional range of Bolton Chesterfield sofas and settees. The celebrities came and went: out went Messrs Beacham, Baldwin and Jones, along with Dane Bowers, Ikaterina Ivanova and Heidi Fleiss, not to mention several others most of us had never heard of. The only constant that remained throughout the whole process was Alex Reid (Mr Jordan to you and me) and the Chesterfield itself. If you asked us for an honest opinion then the Chesterfield should've won: it's got more history than the lot of them put together.
You might wonder how any piece of traditional Chesterfield furniture could outshine a house packed full of celebrity 'talent'. Well, we couldn't really give you a definite answer to that conundrum. Perhaps it was because some of the celebs were even more wooden that the sofa frame? Maybe they didn't display the class and understated elegance of the Chesterfield settee. Who's to say? The Chesterfield Sofa Company couldn't possibly comment. What we can say with a degree of confidence is that our traditional range of Bolton Chesterfield furniture is reliable, practical, a delight to behold and built to last. We're not sure you could necessarily say that about some of the competitors. If you're dreading the return of Big Brother, don't worry. Autumn will be here soon.
---