<![CDATA[[caption id="attachment_6791" align="alignnone" width="877"]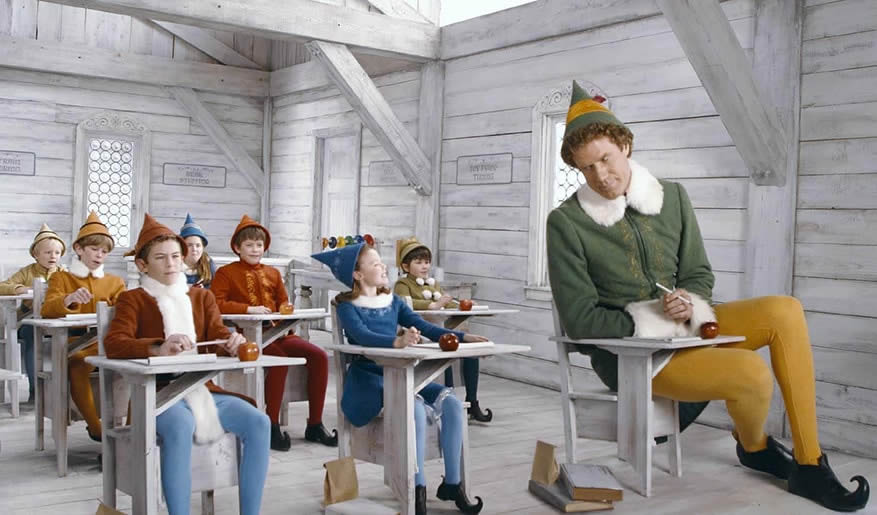 Yahoo / New Line Cinema[/caption] Is it nearly Christmas already? Yes, it is, and we cannot wait. Time to kick back and indulge yourself. With stocking loads of festive fun and hopefully no Christmas family arguments. Here's to lashings of scrumptious food and getting a little tipsy on a glass or two of sherry. We love Christmas, so bring it on Santa! The best part of a traditional yuletide is to stoke up the log burner, kick off your shoes and get all lovely and toasty. Then it's time to settle back on the Chesterfield and enjoy some great Christmas movies. To help you get in the mood here's our countdown of the best Christmas movies. Festive flicks that are as Christmassy as tinsel and green ginger wine. Check out our list. It's sure to get your seasonal juices flowing like an oven-ready turkey. Get your remotes ready, here we go…
1. Elf
Will Ferrell stars as a towering adopted Elf let loose on the real world. There's laughs aplenty as he learns how to cope outside of Santa's toy factory and as he finds his real father. Touching, funny and always worth watching for Ferrell's overwrought performance.
2. Jingle All The Way
Nothing is going to stop Arnold Schwarzenegger finding the perfect gift for his son. Would you get in Arnie's way? I doubt it. Whilst the Christmas spirit is present in this movie there also some comic violence to keep all the family happy. This one packs a punch!
3. Home Alone & Home Alone 2
Christmas is a time for children. So what better Christmas movies for the young 'uns than these slapstick classics? Macaulay Culkin opens several cans of whoop-ass on some hapless burglars who try to invade his family home. It's best not to worry about the parental negligence that finds young Macaulay left alone twice! Just enjoy the ingenious traps he sets for the hapless but relentless intruders.
4. Gremlins
If you're the proud owner of a cute Gremlin then you already know the rules. Do not get them wet and don't feed them after midnight (even though it's technically always after midnight). Happily, both these rules are broken in this Christmas movie and mayhem ensues. Good mayhem though. A bit like Christmas funnily enough.
5. Bad Santa
This one's for the adults so make sure the little elves are in bed. Billy Bob Thornton plays a sweary, dysfunctional mall Santa. One whose frozen heart is thawed by a persistent believer. This is one of those Christmas movies for grumpy sorts who haven't yet embraced the festive season.
6. Scrooged
Dicken's is brought into the modern age in this reworking of A Christmas Carol. Bill Murray plays a heartless executive who's taught the error of his ways by three Christmas ghosts. Murray is always good value as a sardonic anti-hero, especially when serially assaulted with a toaster. Not sure what we mean? Time to scour the schedules and seek out this jolly treat.
7. Polar Express
The first animation on our list. Tom Hanks enchants in several roles as the Polar Express trundles to the North Pole to meet Santa. The kids will love this seasonal fancy. It has both action and festive charm by the carriage load.
8. Die Hard
Yippee ki yay melon farmers! Or words to that effect. Bruce Willis gives some street cred to a stained vest in this bullet-ridden classic. Maybe you'll be in your stained undergarments as you watch. Don't worry we're not judging. Enjoy Bruce scampering around a skyscraper taking down terrorists and cursing like a good 'un. As Christmas movies go this is one that the blokes will love.
9. Love Actually
Maybe that should be Lovies Actually? This British film will tug your heartstrings until they play Last Christmas and make you want to cry. With tragedy and comedy in equal measure, it's a perfect Christmas movie. One that engages all your emotions. Get the tissues ready.
10. The Snowman
'We're walking in the air' the boy soprano keens with perfect clarity as the snowman flies above the town. An adaptation of a Raymond Briggs story about a kindly snowman who befriends a boy. Just before the thaw arrives. This short animation received an Oscar nomination it's that good. It stars David Bowie as the Goblin King, dressed in a snowman scarf no less. It doesn't get more Christmassy than this.
11. How The Grinch Stole Christmas
Yet another book adaptation, this time of a Dr. Seuss story. Jim Carrey is at his manic (and furry) best as the Grinch who steals Christmas from the pug-nosed villagers. It's a lavish adaptation, that's both colourful and comedic. Naturally, the Grinch sees the error of his ways like all good Christmas villains. So it all ends on a festive high. Hoorah!
12. White Christmas
Bing Crosby and Danny Kaye bring some seasonal schmaltz to this easygoing musical. Of course, it features the most famous Christmas song ever, smoothly crooned by Crosby. Yes, that's White Christmas if you haven't guessed. You know you love it. Even if it doesn't snow on the big day, this ever-watchable movie will get you reaching for your ice skates.
13. Miracle on 34th Street
There have been two versions of this yuletide whimsy. Both feature Kris Kringle trying to convince the modern world he's Santa Claus. The point is that the true spirit of Christmas has been lost in all the commerciality of the season. It's a lesson to us all. To make room for Santa in our hearts this year and spare a thought for what these holidays are all about.
14. Trading Places
Eddie Murphy does a star turn in this rags to riches tale. He plays a wisecracking vagrant who swaps places with preppy executive Dan Ackroyd. Both have to come to terms with their new status and have very different Christmases. There's much comedic chaos of course. Happily, the aged gamblers who are the true villains of the piece get their comeuppance, so it's all good.
15. A Christmas Carol
More Dickens, but this time the real deal. As Christmas movies go, there are many versions of this story; even the Muppets have had a pop at it. Perhaps you have a favourite. You all know the plot. The transformation of 'bah humbug' Ebenezer Scrooge into a Christmas loving nut. Whichever version they show this year, you can be sure it'll be a Merry Christmas for one and all!
Get comfy for your favourite Christmas movie
There's plenty on our list to keep you amused all Christmas long. Great movies that all the family can enjoy. Whether you watch them all, or just one or two, we hope it's from a
comfortable Chesterfield sofa
. So as the big day approaches, grab your TV guide and circle your favourites so you don't miss a second. And if you need a fabulous Chesterfield for next year's Christmas viewing do get in touch. It could be the best present you buy for yourself in 2018!]]>
---