<![CDATA[
In our ever-crowded isles gone are the days when houses have palatial rooms, high ornate ceilings and huge leaded glass windows. With more efficient new-build houses and an increase in those living in apartments, space is now at a premium. It follows that having a smaller dwellings creates some design challenges. No need to fret, with well-chosen furniture, a few cool accessories and a clever design even the cosiest of spaces can feel bright, airy and homely.
For small living room designs, capture the light
For any small living room design, think light! The most important aspect in any design is to choose decorative colours that enhance natural light and maximise the feeling of space. It's always best to use simple, neutral colours for the walls preferably in cheerful watery pastels reserving a focal wall for a fresh, light reflecting wallpaper (if you want some patterned contrast). Hanging a large frameless mirror opposite a window will help to bounce sunlight back into the room. The same is true for the surfaces such as furnishings, flooring and accessories. Try to favour light, pale coloured accessories to make the most of every ray of daylight.
Efficient furniture…
Obviously, you're going to need some furniture. Who doesn't? Again, when space is at a premium, considered choices will pay off. When devising a small living room design the key is to think smaller. There's no point in designing your living room with light enhancing decoration only to fill it up with a huge furniture. There are many, perfectly formed smaller sofas and chairs that look great and are very comfortable.
Take our York range
for example, a space saving Chesterfield suite which when made in a lovely light fabric will work brilliantly in any small living room adding some indulgent luxury too. Apply the think smaller rule to every item of furniture you choose for your small living room. Less is sometimes more, believe it or not!
Where do I put this?
For any living room design, storage is always going to be a challenge. So, when looking for items choose those that have inbuilt storage. These pieces are perfect for squirrelling away those unsightly knick-knacks and can look great too. Our
Box Chesterfield footstool
is a great example of stylish furniture that also incorporates useful stowage. Other options may be a nest of tables, a window seat and floor to ceiling shelves and cupboards. All offer efficient and attractive ways to maximise storage with minimal footprint whilst providing plenty of places to display and keep all your precious trinkets. Finally, installing one or two floating shelves is a good option. Perfect for smaller or fragile ornaments. Moreover, displaying objects on higher placed shelves makes it less likely you damage them as you go about your business.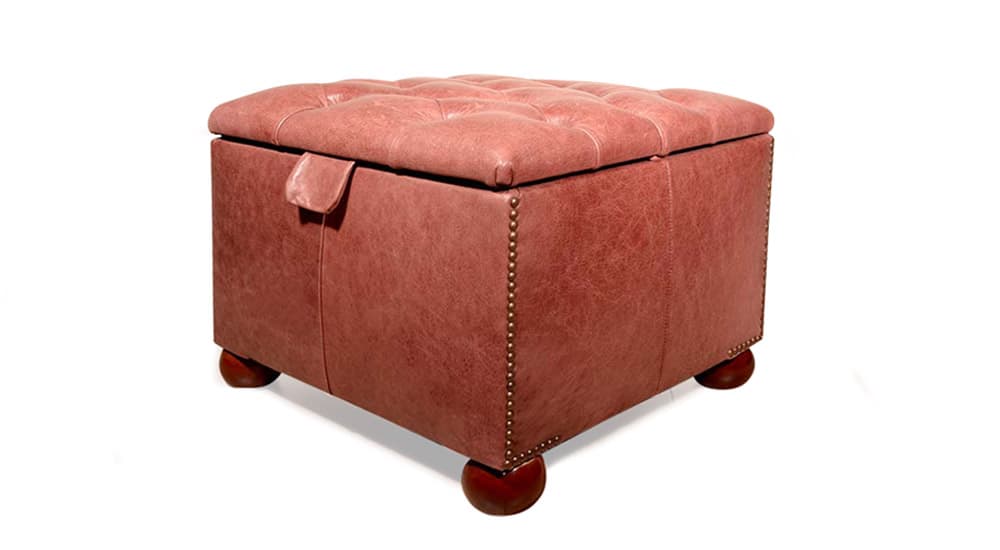 What goes where?
Once you've chosen your furnishings, the layout is important, especially in small living rooms. So, instead of placing all your things around the edge of the room (as many do) try placing your sofa and chairs centrally. This can create a lovely enclave in front of a log burner or TV with room behind it for other well-chosen pieces. If you like a bit of foliage then a couple of plants will give an attractive organic feel to the room and help to reduce the number of functional hard edges that your design may require. Some lush greenery in a corner will always give the impression the room is bigger than it is and brings a bit of nature inside too. The key is to throw away the rulebook, experiment a little and you'll soon get it right for the way you and your family live.
The Chesterfield edge
We hope that these ideas have given you some inspiration. Of course, we would love it if you decide to include a little bit of Chesterfield flair into your small living room design so
why not give us a call and see what we can to help you as you create your cosy living room.
]]>
---