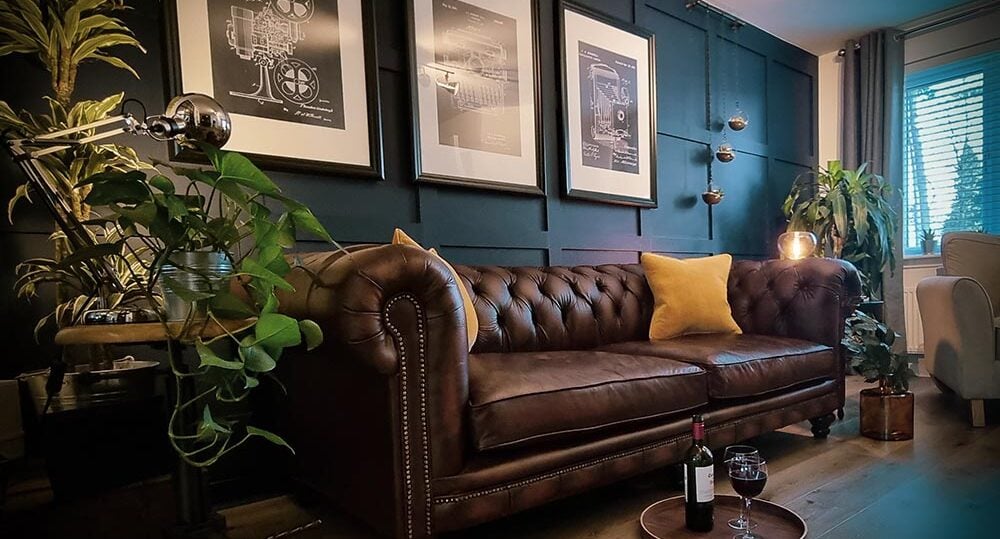 When it comes to enhancing the aesthetics and comfort of your home, few pieces of furniture can rival the allure of a Chesterfield sofa. These iconic pieces exude timeless elegance and offer a level of sophistication that can transform any living space into a haven of style and luxury. In this first section, we'll explore what makes Chesterfield Corner sofas the ultimate investment for your home.
A Touch of Tradition
The Chesterfield sofa design has a rich history dating back to the 18th century. Its origins can be traced to the Earl of Chesterfield, who wanted a sofa that allowed gentlemen to sit comfortably without wrinkling their clothing. This historical significance is one of the reasons why Chesterfield sofas exude an air of tradition and class.
Craftsmanship Beyond Compare
Chesterfield corner sofas are known for their exceptional craftsmanship. They are typically handcrafted by skilled artisans who pay meticulous attention to detail. Each button tuft, rolled arm, and high-quality leather or fabric upholstery is a testament to the dedication of these craftsmen. This commitment to quality ensures that a Chesterfield sofa is more than just furniture; it's a work of art.
Iconic Design
One of the defining features of a Chesterfield sofa is its distinctive tufted backrest and rolled arms. This iconic design sets it apart from other sofas and adds a touch of sophistication to any room. Whether your home décor is traditional, modern, or a blend of styles, a Chesterfield corner sofa can seamlessly fit in and become the focal point of the room.
Enduring Comfort
Investing in a Chesterfield corner sofa means investing in enduring comfort. The deep button tufting not only adds to its visual appeal but also provides a comfortable and supportive seating experience. You can sink into the plush cushions and unwind after a long day, making it an excellent choice for relaxing and entertaining guests.
Versatility
Corner sofas, in general, are known for their space-saving qualities, and a Chesterfield is no exception. This design maximises seating capacity while optimising floor space. It's a versatile addition to any room, from a spacious living area to a cosy den or study. Whether hosting a family movie night or having friends over for a social gathering, a Chesterfield Corner sofa provides ample seating.
A Statement Piece
A Chesterfield corner sofa isn't just furniture; it's a statement piece that speaks volumes about your style and taste. When guests enter your home, their eyes are likely to be drawn to this elegant centrepiece. It's a conversation starter, and its presence alone can elevate the entire atmosphere of your living space.
Durability and Longevity
Investing in furniture is a decision that should stand the test of time. Chesterfield corner sofas are built to be durable and long-lasting. Their solid hardwood frames and high-quality upholstery materials ensure they can withstand the rigours of daily use, making them a wise investment for your home.
A Wide Range of Options
Chesterfield corner sofas come in various sizes, colours, and upholstery materials. This variety allows you to choose the perfect piece that complements your existing décor and personal preferences. Whether you prefer the classic look of leather or the softness of fabric, there's a Chesterfield sofa for you.
Maintaining the Elegance
Owning a Chesterfield Corner sofa is about more than just the initial investment. It's also about taking care of it to ensure it retains its elegance over the years. Regular cleaning and maintenance can keep it looking as good as new, preserving the timeless beauty of this classic piece.
Transform Your Home with a Chesterfield Corner Sofa
In the second part of our exploration into why corner sofas are the ultimate investment for your home, we'll delve deeper into the practical aspects of owning one of these iconic pieces. Let's discover how a Chesterfield corner sofa can truly transform your living space into a haven of style and luxury.
Perfect Fit for Corner Spaces
Chesterfield corner sofas are designed to optimise corner spaces, making them a perfect choice for rooms where space is at a premium. Their L-shaped configuration lets you make the most of every inch, providing ample seating while ensuring your room remains open and uncluttered.
Enhanced Socialising
The corner design of these sofas encourages face-to-face interaction, creating a warm and inviting atmosphere for gatherings. Whether it's a casual family evening or a more formal gathering, a Chesterfield corner sofa offers a comfortable and sociable seating arrangement for your guests.
Functional and Stylish
In addition to their timeless beauty, Chesterfield corner sofas are highly functional. Many models come with built-in storage compartments and even pull-out beds, adding to their utility. This blend of form and function ensures you get the most out of your investment.
Complementary Accessories
To complete the look of your living space, you can accessorise your Chesterfield corner sofa with complementary furniture pieces and decor. Coffee tables, accent chairs, and stylish lighting can further enhance the aesthetics of your room. The sofa's classic design allows for a wide range of decorative choices to match your personal style.
Variety of Upholstery Options
Chesterfield corner sofas come in various upholstery options, allowing you to choose the material that suits your lifestyle. Whether you prefer the luxurious feel of leather or the practicality of fabric, there's a Chesterfield corner sofa to meet your needs.
Colour and Style Coordination
These sofas are available in an array of colours, allowing you to coordinate them with the existing colour scheme of your home. Whether you're going for a classic look with rich browns and deep reds or a more contemporary vibe with neutral tones, there's a Chesterfield corner sofa to match your vision.
Easy Maintenance
Maintaining a Chesterfield corner sofa is relatively straightforward. Regular dusting and occasional spot cleaning are usually all that's required to keep it looking its best. High-quality upholstery materials are often stain-resistant, making them a practical choice for homes with children and pets.
Resale Value
Investing in quality furniture can pay off in the long run. Chesterfield corner sofas, known for their durability and enduring style, retain their value over time. Should you ever decide to upgrade or change your decor, you'll find that these sofas have a healthy resale market.
Create a Focal Point
A Chesterfield corner sofa can be the focal point of your living room. Its elegant design draws attention and sets the tone for the entire space. When you enter the room, your eyes are naturally drawn to this stylish and comfortable masterpiece.
A Timeless Legacy
In conclusion, a Chesterfield corner sofa is more than just a piece of furniture; it's a legacy of timeless elegance and comfort. Its enduring appeal, practical features, and ability to transform any space into a haven of style and luxury make it the ultimate investment for your home. The blend of tradition and modernity, along with its adaptability to various decor styles, ensures that it remains a cherished and valuable addition to your living space for years to come.
So, if you're looking to elevate your home's interior, consider investing in a Chesterfield corner sofa and experience the magic of timeless elegance in your daily life.
---